CHRISTIE ADMINISTRATION TAKES ACTIONS TO ENHANCE CONSUMER HEALTH SAFETY OF SHELLFISH HARVESTED IN NEW JERSEY WATERS
ADMINISTRATIVE ORDER AND RULE PROPOSAL WILL ENSURE HIGHEST LEVELS OF PROTECTION FOR NEW JERSEY SHELLFISH
(15/P107) TRENTON – The Christie Administration is implementing changes to the state's shellfish-safety program to ensure that New Jersey meets the highest harvest-to-market public-health protection standards and promotes future growth of shellfish aquaculture, Department of Environmental Protection Commissioner Bob Martin announced today.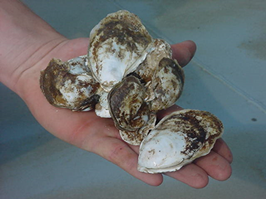 The DEP today proposed changes to its Shellfish Growing Water Classification Rule, which establishes standards for protection of water quality and harvesting of hard clams, surf clams, ocean quahogs, oysters, sea scallops, bay scallops and blue mussels. The proposed changes are published in today's edition of the New Jersey Register.
Commissioner Martin also signed an Administrative Order that will assist in the implementation of the objectives of the proposed rules by requiring registration of aquaculture operations, launching harvester training, and requiring compliance with the U.S. Food and Drug Administration's National Shellfish Sanitation Program standards. The changes ensure dealers in the state will remain on the FDA's Interstate Certified Shippers list.
"New Jersey has long been a national leader in commercial production of shellfish, which is a vital part of our state's seafood industry," Commissioner Martin said. "We already have an excellent water quality monitoring and shellfish sanitation system in place.  The steps we are taking will make this system even better by providing consumers with an even greater degree of confidence that the shellfish they consume from New Jersey is as safe and fresh as possible."
The DEP and New Jersey Department of Health have worked cooperatively with the FDA for many years to ensure the safety of shellfish.
"The Department of Health's Seafood and Shellfish Project oversees a proactive certification program that requires all wholesale shellfish dealers to handle, process, and ship shellfish under sanitary conditions and maintain records verifying that the shellfish were obtained from approved areas," said Health Department Acting Commissioner Cathleen D. Bennett. "We regularly test and collect shellfish samples from harvest areas, certified shellfish dealers, and retailers. Inspectors also routinely check shipping containers of shellfish to be sure that wholesalers are providing proper identification tags which show the source of the shellfish."
Key steps the Administration is now taking include:
Hard clams, surf clams, ocean quahogs, oysters, sea scallops, bay scallops and blue mussels are filter feeders, meaning they take in particles of food that pass through the water. Consumers can become sick from eating raw or undercooked bivalves that have taken in elevated levels of bacteria or viruses due to poor water quality. Cooking typically kills these pathogens, but many people enjoy shellfish uncooked.
Over the years, New Jersey has been recognized as a national leader in restoring the viability of commercial shellfish beds through strong regulations protecting water quality. The DEP monitors, classifies and enforces shellfish regulations in 425,830 acres of estuarine beds and 295,857 acres of ocean beds.
The DEP gathers and analyzes more than 12,000 water samples from these waters each year. At any given time, 75 percent or more of the state's classified waters are rated as approved for shellfish harvesting.
The public many submit comments on the rule proposal to:
            G. Colin Emerle, Esq.
            Attn: DEP Docket No: 11-15-10
            Office of Legal Affairs
            Department of Environmental Protection
            401 East State Street, Floor 7
            Mail Code 401-04L
            P.O. Box 402
            Trenton, NJ 08625-0402
For more information on the rule proposal, water quality monitoring and shellfish beds, and a link to harvester training, visit: www.nj.gov/dep/bmw
This content was originally published here.