Arriving at Premjai 99 Thai Heritage, just one of the small eatery's five tables is occupied.
Our arrangement with the manager, 16-year-old Felicia Hong, was for us to interview her during the mid-day lull between lunch and dinner.
Just as we are about to start, however, more customers arrive.
Hong gets up to greet them, smiling behind her mask as she invites them in to be seated.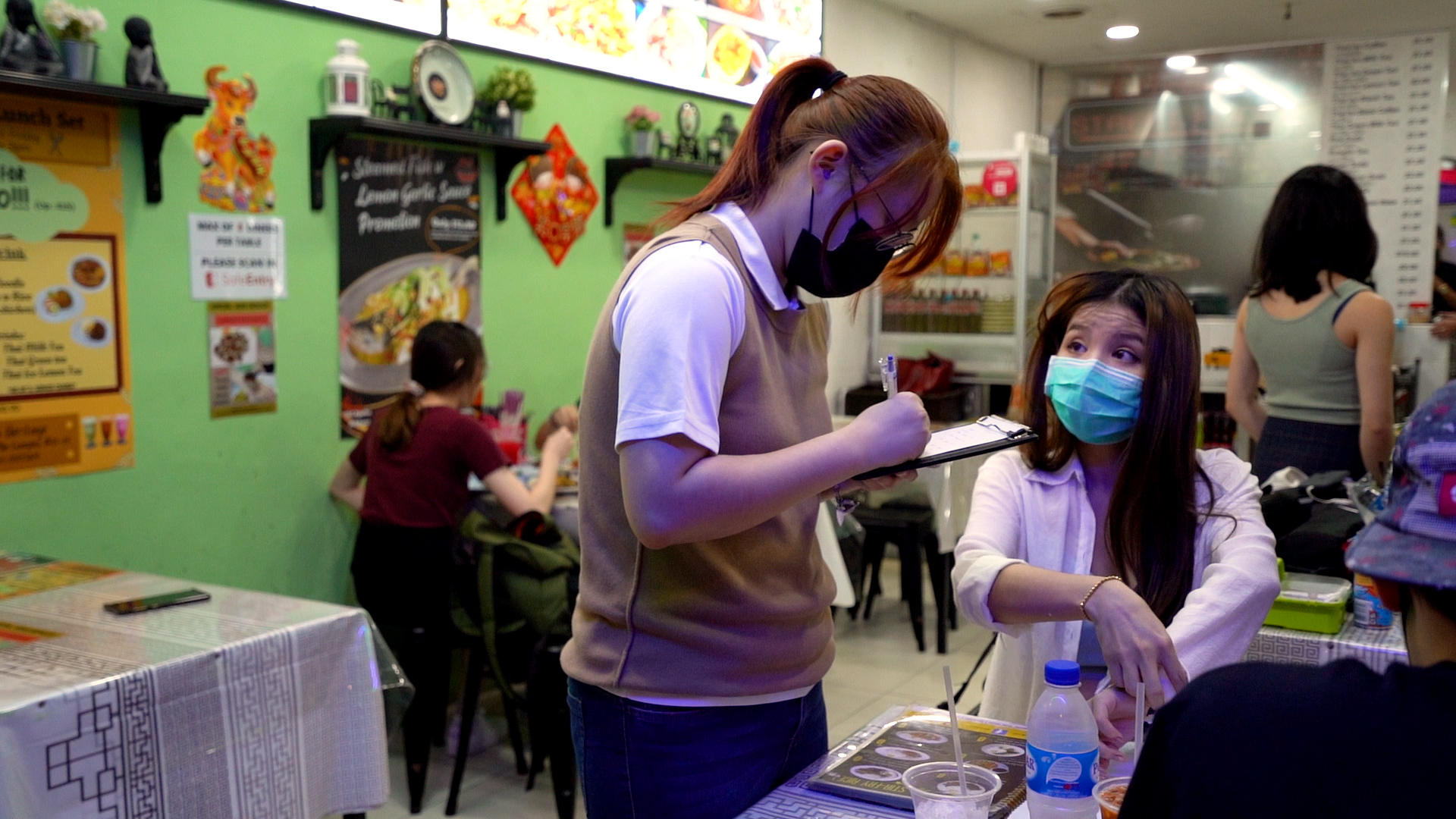 During the interview, we are similarly interrupted several more times, but this turns out to be a blessing in disguise — it allows us to see her in action, bustling back and forth in the small eatery, between her customers, the cashier's counter, and the kitchen located behind a glass partition.
Business owned by her father, but she's the boss
My first meeting with Hong took place some weeks before the actual interview.
I visited the outlet to follow up on an email recommendation from a Mothership reader, who had somehow discovered the eatery despite its not-so-prominent location "in the alley at Golden Mile Complex […] in between two big restaurants," as the reader described it.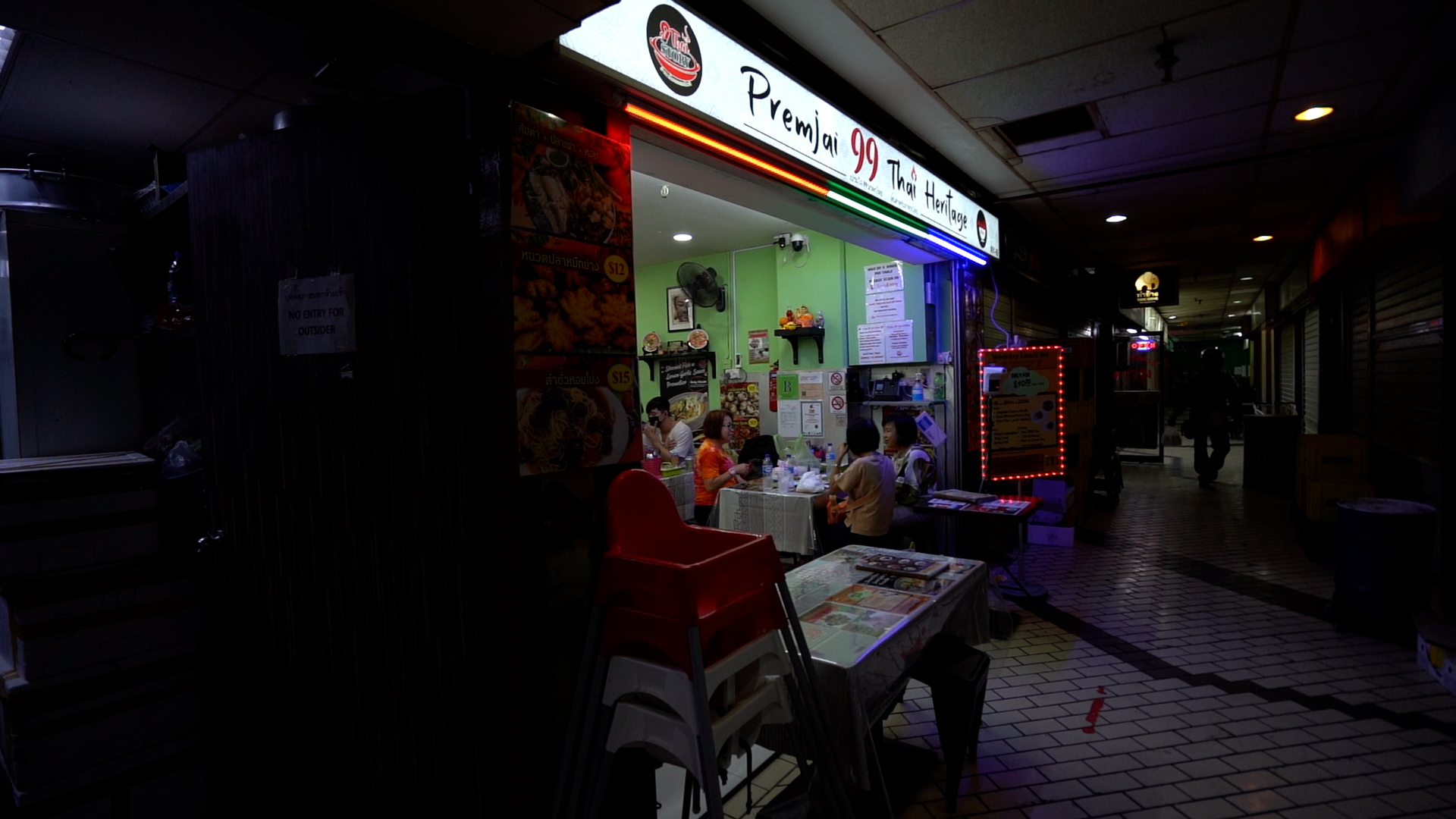 I found Hong busy preparing the shop for the dinner crowd, and asked her who the boss of the outlet was.
"Me," she replied without hesitation, and confirmed the reader's account that it was indeed a teenager who was running the place, together with two kitchen staff.
She clarified that while her father owns the stall, she takes charge of the shop's day to day operations, dealing with customers and suppliers alike.
Hong's father, 52-year-old Leslie, entered the F&B industry about six years ago, and now runs a Thai restaurant at Bishan, 99 Thai Story Kitchen.
Through helping out there over the years, Hong had her first taste of working in F&B — serving customers, cashiering, and social media marketing.
"Basically, whatever I can help out with, I help out," says Hong.
Last year, however, in the midst of Hong's O-Level preparations, Leslie was looking into expanding his Thai restaurant business, and asked her to consider helping to oversee the new outlet when her exams were over.
Leslie explains that in spite of her young age, Hong had proven herself at the Bishan branch through her adept management of its social media — something that Hong says did not come easy, due to initial disagreements with her father, which she'd had to overcome by slowly helping him understand her perspective.
"She's very stubborn ah," says Leslie of his daughter, but concedes that her efforts to promote the restaurant did bring about more business.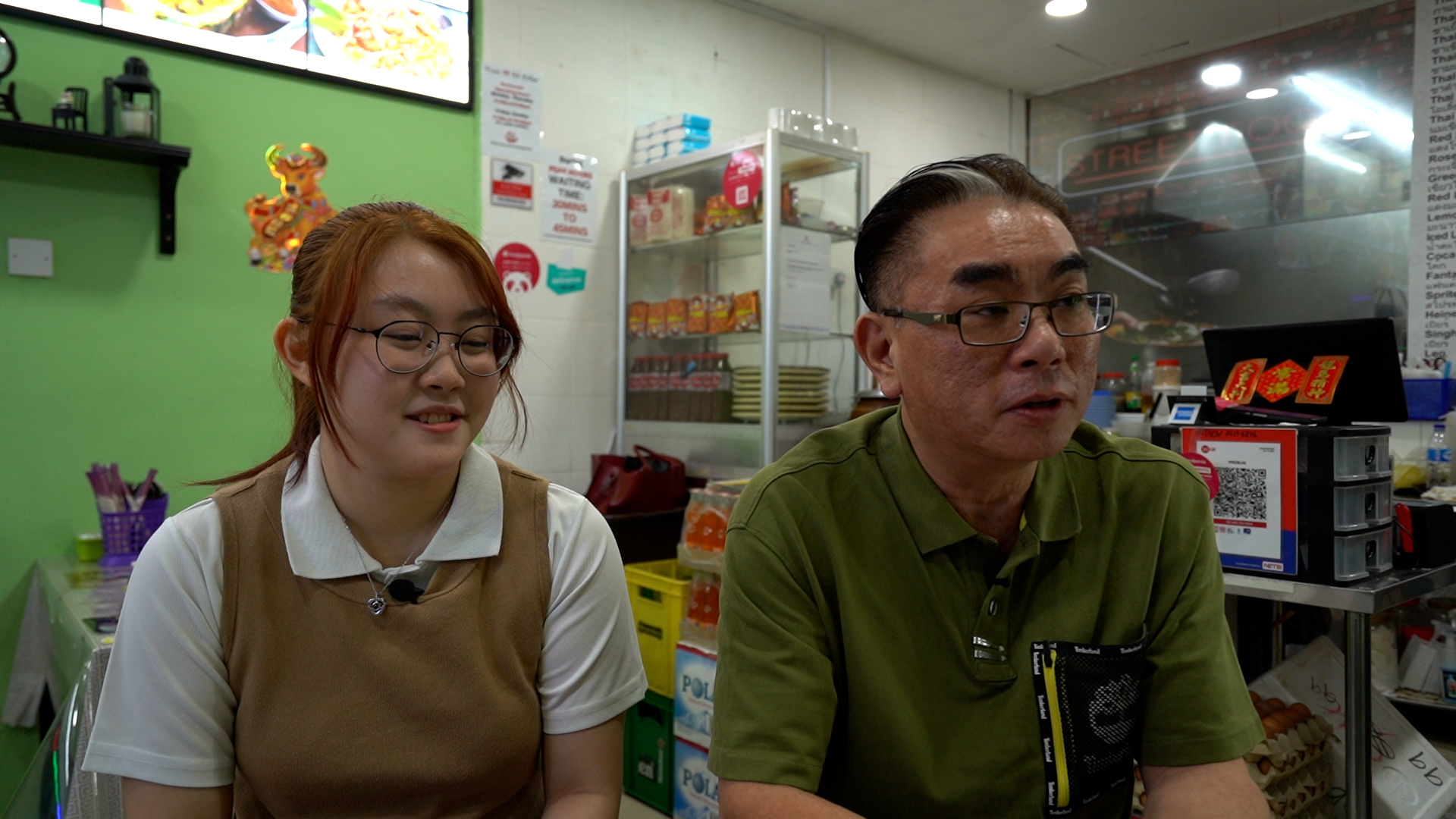 Buoyed by her success at the Bishan outlet, Hong agreed to consider Leslie's suggestion for her to help out at Golden Mile, sharing that she had been looking for a way to stay productively occupied after her exams, anyway.
She recalls going along with her father to view the shop space at Golden Mile, some time before they'd decided to take over.
"I actually mentioned to him, 'eh, it seems like it's okay… maybe we can give it a try.'"
Started work right after O-Level exams
In October, once Hong's O-Level exams ended, she got right to work at the new shop space, which had just been handed over by its previous owners in September.
Since then, her daily routine includes 10 to 12 hours at the restaurant, with just one day off every fortnight, as the stall is only closed on alternate Tuesdays.
"The first few months were super tough," says Hong.
"I almost wanted to give up. I almost wanted to tell my dad, 'I don't want to do [this] anymore, I'm very tired.'"
In the midst of those challenging times, however, Hong drew encouragement from supportive customers, some of whom have become loyal regulars.
Hong shares that one of these customers first visited the restaurant when it was about to close for the day. Hong not only let her in and took her order, but seeing that she was pregnant at the time, advised her against ordering certain items which contained raw food.
The customer commended Hong's thoughtfulness, and even left a note encouraging her to "keep up the effort", while promising to return for the service and the food.
"When people tell me that my food is very nice, service is very good, 'I will come back again' — that's a moment where I feel very proud."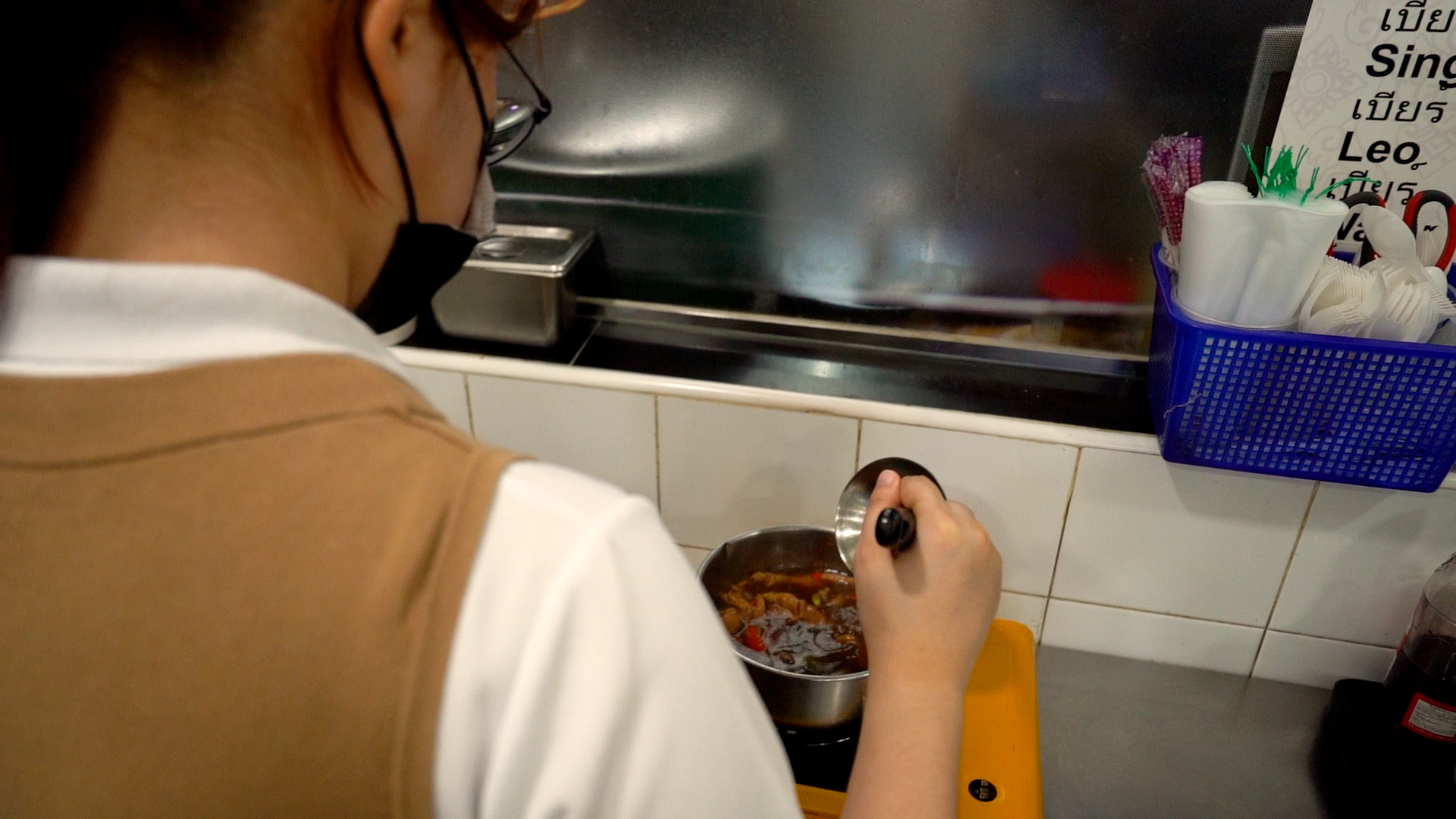 Hong's experiences in the shop have made her feel like she has reached a turning point in maturity.
Hong shares that one of the last things her grandfather said to her before he passed on in 2015 was: "Don't let dad and mum worry."
As Hong was close to her grandfather, his passing was a "big blow", and those words left a deep impression on her.
Being able to fulfil her duties at the restaurant independently is something Hong sees as "a significant step" toward becoming more independent.
"Previously, when I faced troubles that I really cannot solve, I will just, 'hello, daddy, I need help.'"
In contrast, on her own at Golden Mile most of the time, Hong has been placed in difficult situations where she has simply been forced to find a way, such as dealing with difficult customers, managing unpredictable delivery timelines amid Covid-19, and even haggling over the price and quality of goods.
"So when my suppliers come with seafood is not fresh, I will have to call them and say, 'hello uncle, why is the seafood not fresh today?'
Then they will do something about it, because I am very particular about this… I can only use fresh seafood."
"I definitely grew a lot from being here… I became more independent," says Hong.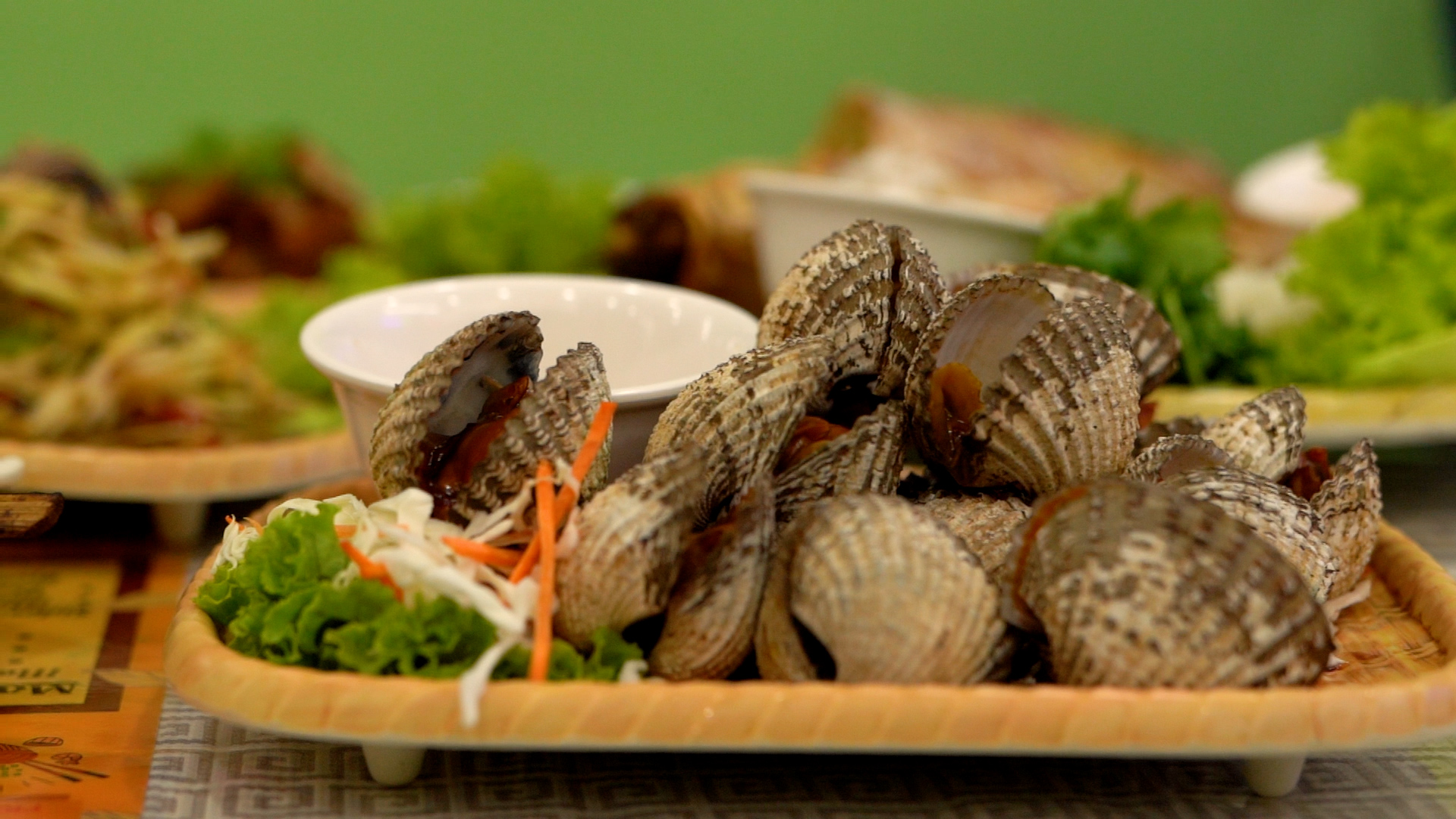 "I really envy people my age"
Still, this maturity has come at quite a cost to Hong, who candidly admits: "I really envy people my age."
Hong shares that she no longer feels that she is able to hold a conversation with her former classmates, who have already begun the next stage of their studies in Junior Colleges and Polytechnics, and whose lives are very different from hers.
"It's very hard for me to keep in contact with them also, especially with my working time, my working environment, my off days… we cannot meet up also."
Hong has decided to postpone further studies — at least till later this year.
"I want to finish my studies, but at the same time, I do not wish to give up what I have now," she says.
She shares that some of her former classmates think that Hong should have prioritised her schooling.
But Hong's response is to remind them that this was a path she chose.
She explains that while she is looking at a diploma in business management, she will opt to pursue it on a part-time basis, as this will allow her to continue to spend time at the restaurant.
"People don't understand your choices because they have different priorities," says Hong diplomatically, adding that "everyone has different routes and paths they chose to go."
That being said, she continues to enjoy the support and understanding of a small group of close friends, most of whom are older than her.
"That's enough la. To me it's enough already."
No regrets
"I have no regrets choosing this path," says Hong, pointing out that she has had the opportunity learn things that are "not from the textbooks", and which she'd had little exposure to in school, such as accounting and business management skills, as well as basic Thai, so she can communicate better with Thai-speaking customers.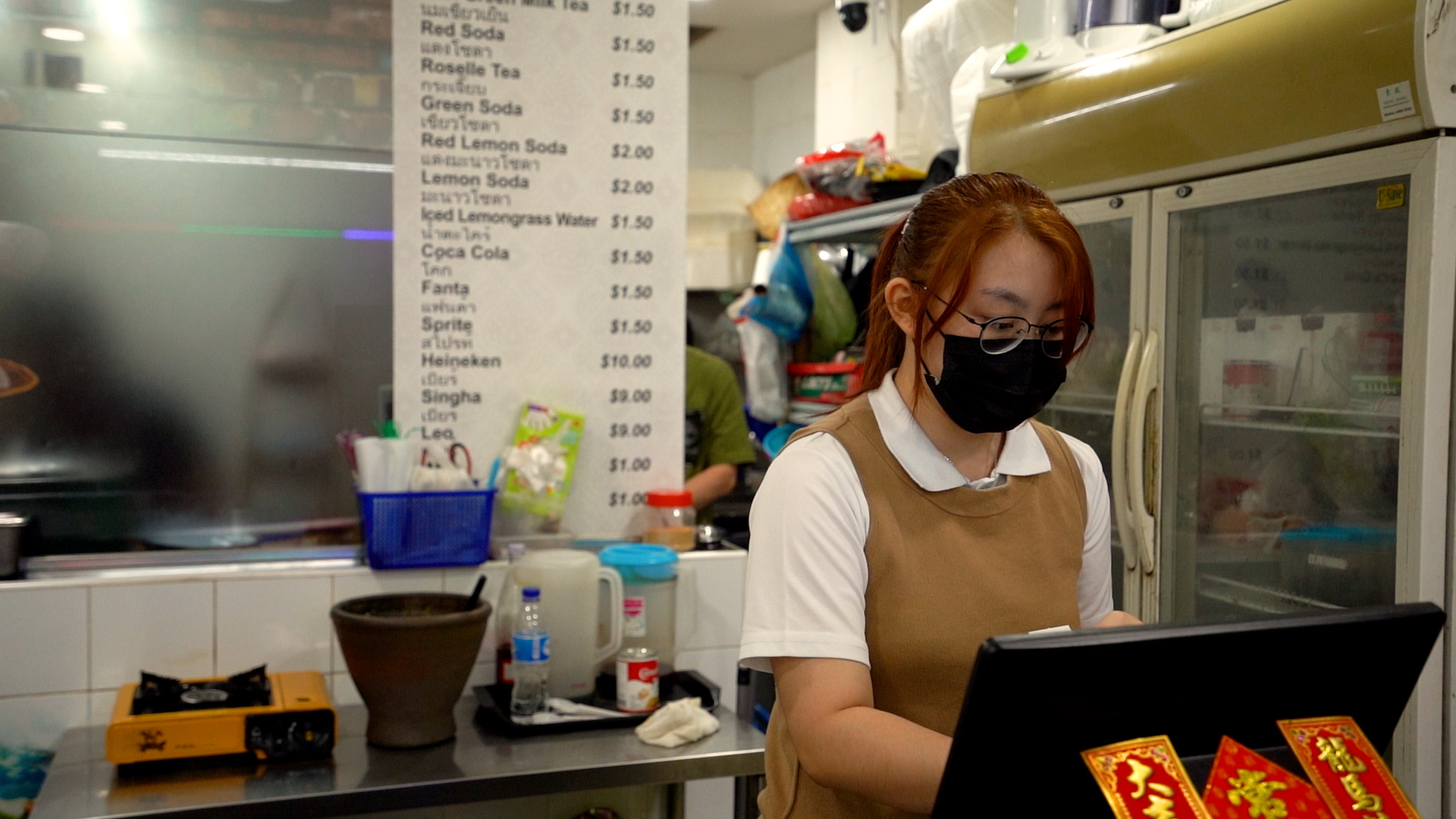 Hong's not only motivated by what she can gain from this experience, but what she hopes to be able to give out of it.
Her hope is that her increasing involvement in the business will mean that her father can eventually start to take a step back.
Hong says that she still sees him working so hard that he doesn't really take care of himself, often missing meals.
"I'll try to lighten his burden lah, so that he can retire earlier," says Hong.
Hong is the oldest of four siblings, says that her three younger brothers have also been called upon to help out in different capacities, but none have quite taken to it like she has.
"Different personality," says Hong, adding diplomatically that "they are very clear about their interests," which apparently lie elsewhere.
But Hong has her own interests too, and says that the media industry is where she would probably end up, if not for the restaurant.
Still, she counts herself lucky to be on a path which allows her to explore media to some extent, as she's been put in charge of managing social media and marketing for both the Golden Mile and Bishan outlets.
It's a compromise she's willing to accept. After all, "not a lot of people can do what they want to do," she says.
Either way, with dining in still restricted amid Phase 2 (Heightened Alert), Hong's role as marketing manager has become all the more important.
Hong shares that at Golden Mile foot traffic has fallen significantly, and delivery fees can be expensive given its location.
The relatively more central Bishan outlet, however, can charge lower delivery fees, and thus receives more delivery orders.
This means, however, that Hong has had to spend more time helping out at Bishan, often travelling between the two outlets in the middle of the day, which can get pretty tiring.
"Do you lose your passion?"
As the interview draws to a close, Hong invites us to have the food which was prepared for the video shoot, offering us bowls of rice, and drinks to go along with the dishes.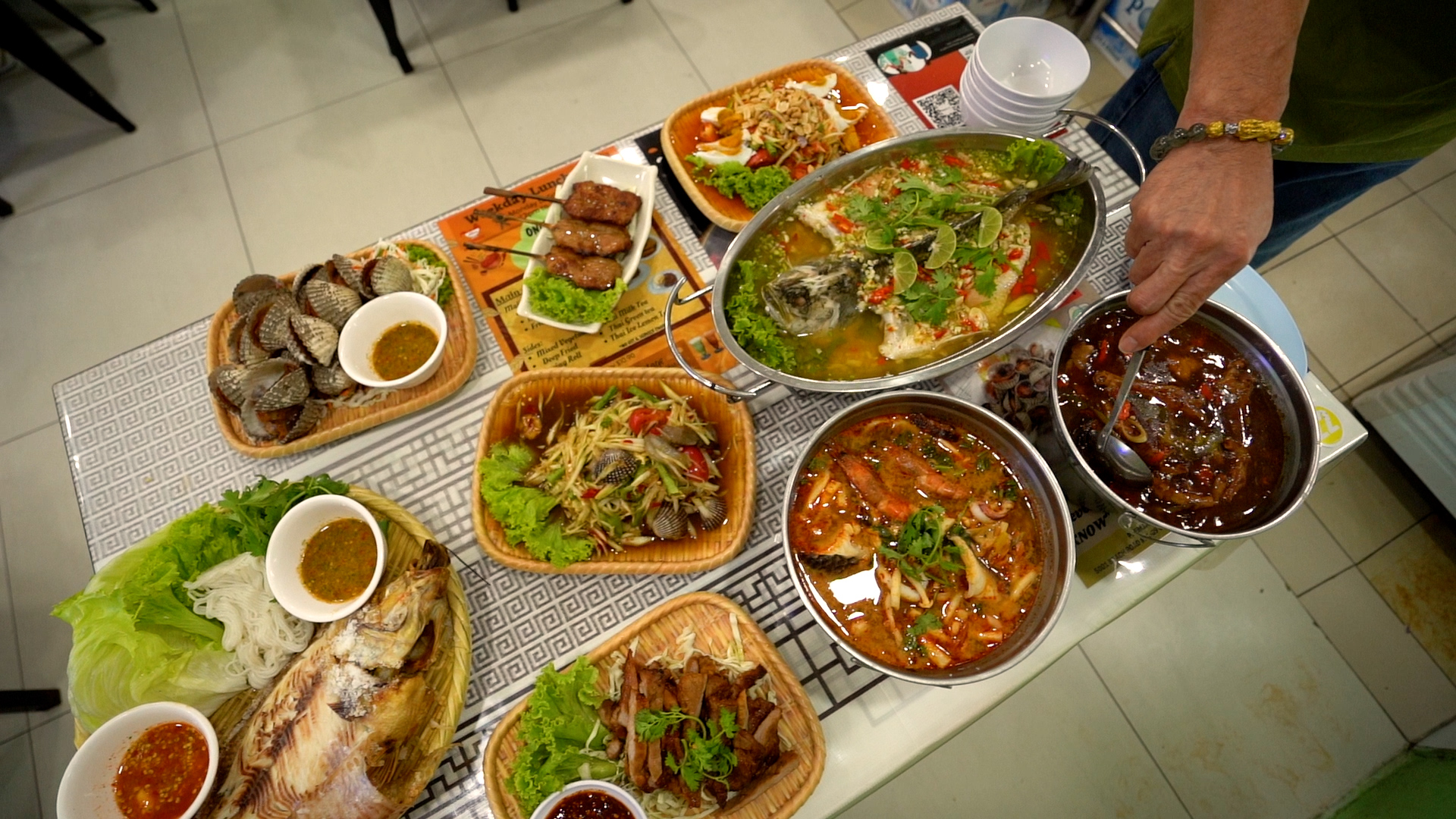 After making sure we have everything we need, she joins us at the table, and begins to ask us about our work at Mothership; how many colleagues we have, how we decide which stories to cover, whether it's hard to get a job in the company.
She then poses us a rather disarming question, point-blank — "Do you lose your passion?"
Up till that point, we had almost forgotten that she was just 16.
We each share our perspectives in turn, ending off with a rough consensus that while one may have the good fortune of finding a job that is mostly aligned with one's passion, there will eventually still be days where it does not feel like good fortune.
It appears that for Hong, that point has yet to come.
Stories of Us is a series about ordinary people in Singapore and the unique ways they're living their lives. Be it breaking away from conventions, pursuing an atypical passion, or the struggles they are facing, these stories remind us both of our individual uniqueness and our collective humanity.
Top image by Juan Ezwan and Nigel Chua
This content was originally published here.