As Justin Fields watched college football games with a few of his Ohio State teammates last weekend, they couldn't help but feel down that they weren't on the field playing a game themselves.
"We were just all hurting," Fields said. "We literally kept saying like, 'Wow, we're really not playing this year. This is all we're going to be doing this year. This sucks. This is different.'"
Fields and his fellow Buckeyes don't have to feel that way anymore, however, after the Big Ten announced Wednesday that it will start its season on Oct. 23 and 24, giving them the opportunity to play this fall and compete for a national championship after all.
After the Big Ten announced on Aug. 11 that it was postponing fall sports, making it appear at the time that Ohio State wouldn't get the opportunity to play until the winter or spring, few would have blamed Fields if he decided to leave Ohio State and begin preparing for his NFL career. He's already projected to be a top pick in next year's NFL draft, so he didn't need to wait around to see if the Big Ten would reconsider if he didn't want to.
But Fields made it clear all along that he not only wanted to play this fall, but was willing to go out of his way to advocate that he and his teammates should have the opportunity to do so, starting a petition that received over 300,000 signatures and subsequently making multiple national media appearances to explain why he thought the Big Ten should allow its teams to play this fall despite the ongoing COVID-19 pandemic.
So even when Wyatt Davis announced his decision to begin preparing for the NFL draft last Friday, and Shaun Wade did the same on Monday, Fields says he never considered doing the same. Knowing that he wouldn't be declaring for the draft until January under normal circumstances anyway, Fields was committed to waiting and seeing if the Big Ten would allow Ohio State to play in time to compete for a national title this fall before he made any decision to leave.
"I really wasn't trying to rush anything, in case this situation did pop up," Fields said Friday. "And another reason is I wanted to give myself an opportunity to come back and show the world what I can do and what I've improved on, because I feel like I've improved a lot on my game and I've learned a lot this offseason and I know the talent we have on offense and defense. And we're just all excited to be able to get on the field and show how hard we've been working, show our talents really, and play the game we love."
RELATED Ohio State's Back in the College Football Playoff Race, But It Won't Have Much Margin for Error
Amid the uncertainty of whether the Buckeyes would get to play this fall, Fields kept working as hard as ever throughout the summer. With the exception of one week when Fields went to Georgia to visit his family and friends back home – and even attended a Georgia scrimmage, leading to inaccurate speculation that he might transfer back to the Bulldogs – Fields remained in Columbus and continued to work with his Ohio State coaches and teammates, which he believes has made him a better player going into the 2020 season.
"When our season got postponed before, me and Coach Day would meet every day, we would go out there on the field and throw and watch film and kind of try to fix up my mechanics, so we were kind of just working one-on-one," Fields said. "And I think I learned a lot from him, just seeing the way he thinks and the way he watches film, and just kind of sitting down with him and communicating with him and really just learning from him, because he's had experience in the NFL. So it was great, really, just getting to sit down with him and learn."
Having seen the way Fields has worked firsthand, Ryan Day expects great things from his quarterback when the Buckeyes finally get to play again next month.
"The way that he's gone about his business, the way that he's spoken up and been classy about it, his work ethic this offseason – if you ever get the chance to ask Coach Mick (Marotti) about it, it's been off the charts," Day said. "He's changed his diet, he's put extra work in and just to see his leadership and the way he's handled it, I can't say enough about who he is."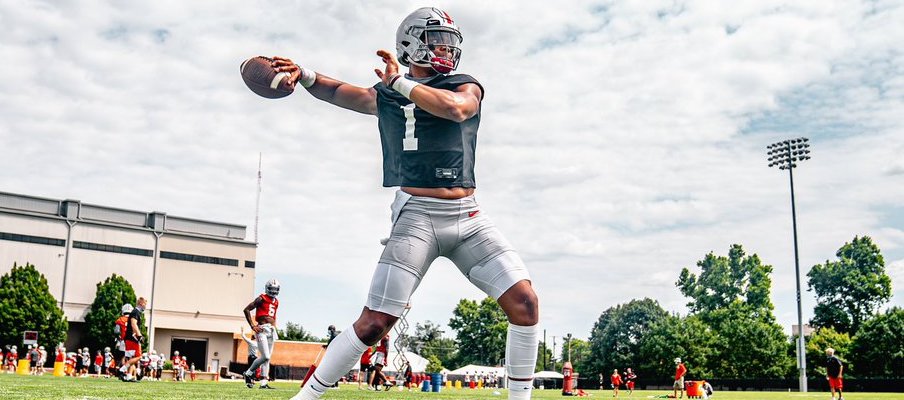 Justin Fields continued to train at Ohio State all offseason, even when it was uncertain if the Buckeyes would get to play this fall. (Photo: Ohio State Dept. of Athletics)
Asked Friday about his determination entering this season, Fields said, "I don't think there are words to describe how determined I am."
"Really, I think it just shows with the stuff I do, how I carry myself in the facility, how I work on and off the field," Fields said. "I think it's just gonna have to show itself."
"I wanted to give myself an opportunity to come back and show the world what I can do and what I've improved on, because I feel like I've improved a lot on my game."– Justin Fields on not opting out
Now that Wade and Davis have both announced their intentions to return to Ohio State and rejoin the Buckeyes' championship chase, Ohio State does not have a single player opted out of the 2020 season. And there's no question that Fields' leadership, and steadfast commitment to playing as long as the Buckeyes got to play this fall, played a crucial role in keeping the team together.
That said, Fields isn't surprised every Buckeye has opted into playing this fall – even though Day told all of them they could opt out if they didn't feel comfortable playing – because of the team's brotherhood and love they have for one another, a love that has been fostered within Fields over the past 20-plus months since he arrived in Columbus as a transfer from Georgia in January 2019.
RELATED Legendary Status Awaits Justin Fields If He Can Accomplish What He's Chasing in Last Season at Ohio State
"The brotherhood is real," Fields said. "I think seeing a lot of different teams and players opting out and for whatever reason, I'm not saying that they don't love their teammates, they might have different situations going on at home, but I just think Wyatt and Shaun coming back, that just shows you guys how much love there is on this team and how much of a brotherhood we really are and how close we really are.
"Last year, I was close to some defensive guys, but this year, I've kind of tried to make connections with every guy on the team and get close to them. So we relate to each other closely, and it just shows the love that we have for each other, what we want to do, what we want to accomplish, and like (Ohio State defensive end Jonathon Cooper) said earlier, we want to play. They're not forcing us to play. We want to play. And Coach Day has given us the option to opt out if we don't want to play. But everybody on this team wants to play and hope to win a national championship, so that's our goal and that's what we're focused on."
This content was originally published here.