It wasn't that long ago that Florida Gov. Ron DeSantis said his state would screen all passengers flying from the tri-state area around New York City into Florida for coronavirus. Those who tested positive would go into a mandatory quarantine.
That was then, and this is now.
DeSantis on Wednesday said Florida was open for all professional sports teams to play and practice. Even those Yankees, Mets and all other teams from the Big Apple.
"One thing I am going to do, probably this week, is all professional sports are welcome here for practicing and for playing," DeSantis said during his daily coronavirus news briefing. "Now, we're not going to necessarily have fans."
The announcement comes one day after Arizona Gov. Doug Ducey said pro sports will return to his state, also without fans.
Both DeSantis and Ducey are Republican governors, and some of the harder hit states are governed by a Democrat leader.
The sports world has been shut down for more than two months now, starting with the NBA abruptly stopping its season because of the spread of COVID-19, also known as the coronavirus pandemic. A player from the Utah Jazz tested positive for COVID-19 on March 11, and the NBA suddenly put an indefinite stop to its season and subsequent playoffs.
A day later, the NHL and Major League Baseball postponed their seasons, and the NCAA canceled everything on its calendar for the remainder of the school year, including canceling the men's March Madness basketball tournament.
Since then, the sports world came to a stop. During that time, New York City became the world's biggest hot spot for the spread of COVID-19, and DeSantis issued his mandate that all tri-state passengers would be screened and quarantined.
Sports are slowly beginning to trickle back into American life, but only through TV. This includes last weekend's UFC fights in Jacksonville, Florida. NASCAR returns this Sunday with the Cup Series in Darlington, South Carolina.
Florida has enough facilities to accommodate all kinds of sports events, and has the service industry of hotels and restaurants to support such a grandiose invitation to all sports teams. There are Major League Baseball parks in Miami and Tampa Bay, but also a plethora of minor league parks that play home to baseball's Grapefruit League for Spring Training. If there are no fans, then stadium size should not matter.
Florida has NBA arenas in Miami and Orlando, and college arenas from Tallahassee to Tampa and Gainesville to Fort Myers that can handle basketball games. Because, again, crowd size does not matter.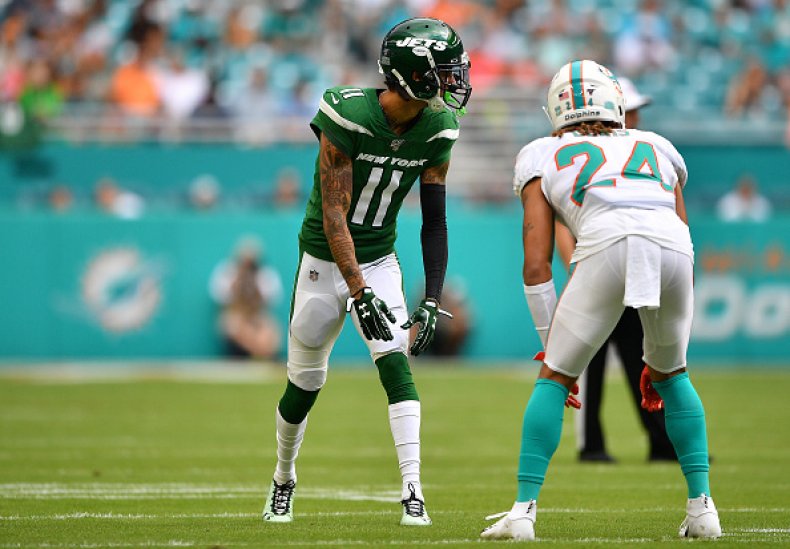 Robby Anderson #11 of the New York Jets lines up against Ryan Lewis #24 of the Miami Dolphins in the first quarter at Hard Rock Stadium on November 03, 2019 in Miami, Florida.
Photo by Mark Brown/Getty Images
If NFL teams need training facilities, there are three NFL cities in Florida (Jacksonville, Miami, Tampa Bay) as well as stadiums on college campuses in Gainesville, Miami and Tallahassee.
The state has two NASCAR-worthy tracks in Daytona and Homestead, has world-class golf courses, tennis centers, swim centers, large track facilities and other venues built for sports.
Baseball has already floated plans to restart at Major League stadiums, but with no fans. One idea pitched has been one league playing in Florida's minor league parks and another playing in Arizona's minor league parks used during MLB's preseason in the Cactus League.
Florida isn't completely open for business because of the coronavirus, but pro sports are welcome to open up shop in the Sunshine State for now.
This content was originally published here.